Question: What is solasX?
Answer: solasX is a product line of Anytime Sign, Inc. introduced in 2013 that enhances the use of Magic Black on SOLAS.
Question: What are the advantages of solasX?
Answer: solasX is superior to other Infrared Solas Patches with Magic Black for several reasons:
1) Longevity - solasX patches made with Magic Black lasts longer than other IR patches.
2) Conformity - solasX patches are soft like leather, so they conform easily to body curves.
3) No Polyurethane - solasX do not contain polyurethane which turns yellow and brittle with age.
4) Exotic colors and metallic capabilities - solasX patches have colors that are brighter and colors can be metallics like silver and gold and "hot" inks like hot pink and neon green.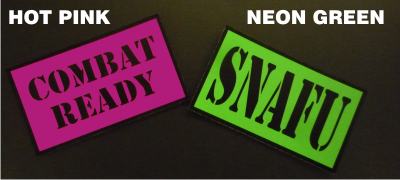 5) Covert capabilities - solasX patches with Magic Black have the ability to hide logos, password information and other design elements which are visible only with infrared night vision.
This Video demonstrates the covert communication capability of solasX with Password patches
solasX is a registered trademark of Anytime Sign, Inc.
Anytime Sign, Inc. 800-582-1554 9967 Hwy 9, Mammoth Spring, AR 72554